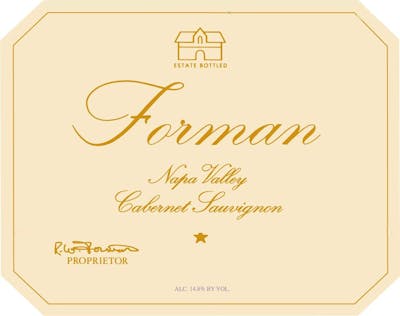 SKU: 00393
Forman Cabernet Sauvignon 2018
---
---
Right from the get-go excitement is created. The purity of color in a wafting rich complex of aromas entice and compel one to take the first taste. Such a plush nose is very inviting. Up front the Forman identity of spice, cedar and violet perfume is so evident. All of the four varieties seem to be screaming for recognition and indeed they get it in this one. Mouth filling flavors create a very pleasing, exiting, and powerful impression. This is pretty dense stuff but with delicious complexity as well. The balance of fruit, wood and bouquet is incredible. This is like a young athlete ready to perform, it's very alive and will win many races as it develops. A keeper they say.
The 2018 Cabernet Sauvignon is silky and elegant, with lovely aromatic presence and impeccable balance. Sweet tobacco, cedar, dried Oowers and mint all give this mid-weight Cabernet lovely complexity and nuance. The 2018 has shut down since I tasted it last year, but that is not surprising given the style here. Today, bright acids give the 2018 energy, tension and a good deal of precision. Those qualities should help the 2018 Cabernet Sauvignon age well over the coming decades.
The 2018 Cabernet Sauvignon Napa Valley is terrific, and I suspect it has some upside. Lots of currants, dried herbs, flowers, camphor, and spice box notes give way to a medium to full-bodied, pretty, beautifully balanced Cabernet with fine tannins and a great finish. It's going to need 5-7 years of bottle age to hit maturity, and it should evolve gracefully.

Are you 21 years old, or older?